helicine wrote:The dates on these issues are driving me nuts. I'm working on the assumption that the blurbs from the cover archive are noting show

reviews

, that seems to be backed up by our estimated publication date for issue #3 as well as the blurb for issue #20 (11/4/83):

Rhythm Lounge, Malaga Castle party Laurel Canyon party with Tupelo Chain Sex, SPAZZ ATTACK at China Club, Peter Beckman's Halloween party, Mau Mau at Co Co Club and The Fluids

Both issues #17 and #20 have Friday publication dates, yet the date on issue #10 (8/25) is a Thursday. However, I may have found a good reason for that. 8/25/83 was the start of the Sunset Junction Street Fair. Seems reasonable that they'd want to put that issue out a day early so the new magazine could gain exposure at a big event like that.

So issue #10 of Scratch Magazine places Psi Com's show at Cathay de Grande taking place between 8/20 - 8/24.

Rolling back a week for issue #9 and going back to a Friday publication date, that would give us 8/19/83. This would still preclude that issue

reviewing

the 8/19 Psi Com show at The Co Co Club. Could PC have possibly played two shows at The Co Co Club that week? We've already established their first gig was 8/13/83. So if there was an additional Co Co Club show, it would have had to have taken place 8/14 - 8/18. That could be the case, or maybe the issue is

reviewing

the Hully Gully gig and

previewing

the 8/19 Co Co Club gig?

I think the only way we'll know for sure is finding a copy of that issue.

Regardless from Scratch #12, I think we can estimate the September show at The Co Co Club taking place between 9/2 and 9/8 (but not 9/3).
I think I figured out why issue #10 of Scratch came out one day early on Thursday instead of its usual Friday publication date. It turns out there was a benefit for Scratch on Friday the 26th at Cathay de Grande. I think it's safe to say they'd want to put out the issue a day early in an effort to reach as many people as possible and in turn raise as much money as possible.
I also think that I've managed to nail down the date of this Psi-Com show at the Cathay De Grande.
If you read the synopsis for issue #10 it says in part: "Psi-Com, Black Flag, Green On Red, and Tupelo Chain Sex at Cathay De Grande". While the ad below for the Green On Red and Tupelo Chain Sex show on August 21st doesn't mention Psi-Com it does say "And Special Guests". I believe Psi-Com were one of those guests.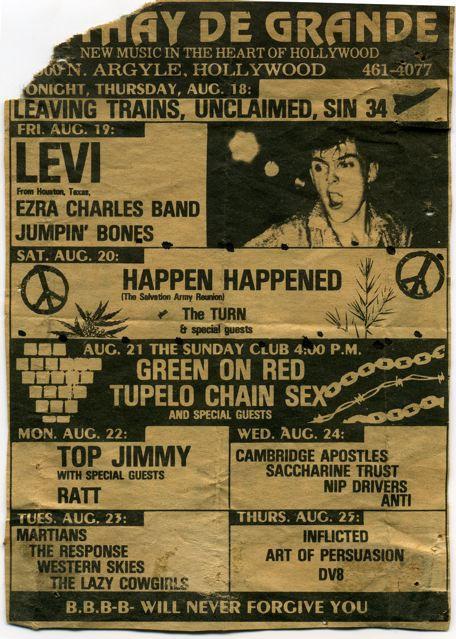 Because the ad doesn't mention Psi-Com we can't say with 100% certainty that they played at this show and therefore this show will retain its status as unconfirmed for the time being.
I found all three scans on the Cathay De Grande facebook page.