I Fix Shit
Posts: 2837
Joined: Tue Jun 27, 2006 7:34 pm
Location: Route 12, King Side Road
Contact:
Last edited by
Mike
on Fri Feb 10, 2012 8:50 am, edited 1 time in total.
Reason:
Added the recently announced / confirmed venue to thread title
janesaddiction.org
Addicted Archivist
Posts: 5960
Joined: Sun Jun 18, 2006 12:20 am
Location: In the mud
Contact:
Concert giant AEG has Warehouse District club in the works

Article by: CHRIS RIEMENSCHNEIDER , Star Tribune Updated: January 10, 2012 - 11:53 PM

Veteran alt-rock band Jane's Addiction let the cat out of the bag Tuesday with the news that entertainment conglomerate AEG Live will open a Minneapolis Warehouse District rock club.

Poised to go head-to-head with independent local mainstay First Avenue, the new venue, named the Brick, will be in the former home of Christian rock haven Club 3 Degrees. The space, at 111 N. 5th St., has been under construction in recent months, but AEG has yet to announce its plans.

The venue is still going through the licensing approval process, but that didn't stop Jane's Addiction from listing a March 19 date at the Brick as part of its new tour itinerary.

A public hearing on the venue is scheduled Jan. 19 at City Hall. City licensing documents confirm that the venue would be run by AEG, which also manages the city-owned Target Center. A city inspector's report lists its capacity tentatively at 2,100 people,. That puts the Brick squarely between First Ave and Epic in size (1,400 and 2,400, respectively).

A source at 3 Degrees -- which still produces ministry events at Epic and other places -- said the ongoing remodeling has altered the layout of the three-story, multi-tiered venue, which previously had a capacity of 1,700.

The public-hearing notice says that the Brick will offer "a performing arts center, live entertainment including vocals and instrumentals of all genres, concerts, comedy shows, art exhibitions and corporate and private parties."

A spokeswoman for AEG Live's regional office in St. Louis declined to comment but said an announcement will come soon. The Jane's Addiction tour is an AEG-promoted event, making for a fitting symbiotic kickoff at the new club.

'Deep pockets'

Based in Los Angeles, AEG (Anschutz Entertainment Group) has investments ranging from the Lakers and Kings sports teams to the Coachella Music Festival, Staples Center and London's O2 Arena. Music-heavy venues in the AEG chain similar in size to the Brick include Los Angeles' El Rey Theatre, the Bluebird Theater in Denver and the Joint at the Hard Rock Casino in Las Vegas.

First Avenue's general manager Nate Kranz shuddered at having "such a deep-pocketed competitor," but he pointed to First Ave's history with another large entertainment corporation, Clear Channel (now Live Nation). Clear Channel aggressively booked concerts at Quest nightclub in the early 2000s, but the company eventually backed off as a majority of bands chose to play First Ave instead. The Quest location is now home to the independently run Epic.

"We'll just practice business as usual, and I think we'll be fine," Kranz said.

Chris Riemenschneider • 612-673-4658 • Follow him on Twitter: @ChrisRstrib
http://www.startribune.com/entertainmen ... 64848.html
I guess that pretty well explains the venue TBD status of this show.
"The quality of mercy is not strained, it dropeth as the gentle rain from heaven."
I Fix Shit
Posts: 2837
Joined: Tue Jun 27, 2006 7:34 pm
Location: Route 12, King Side Road
Contact:
good find
janesaddiction.org
Addicted Archivist
Posts: 5960
Joined: Sun Jun 18, 2006 12:20 am
Location: In the mud
Contact:
"The quality of mercy is not strained, it dropeth as the gentle rain from heaven."
Addicted Archivist
Posts: 5960
Joined: Sun Jun 18, 2006 12:20 am
Location: In the mud
Contact: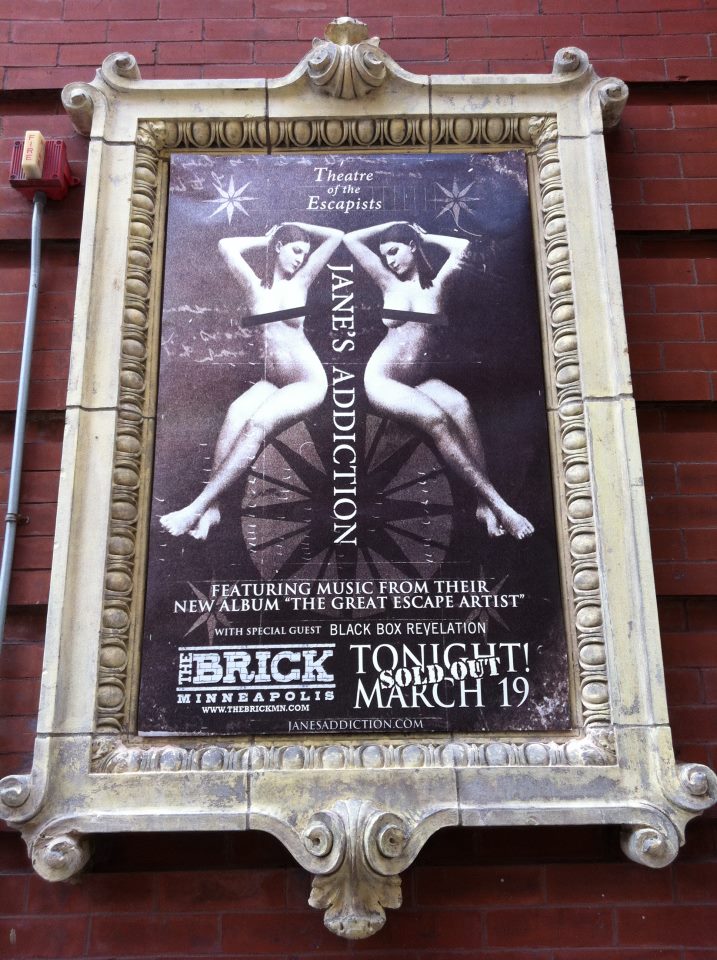 Photo credit Joe.
"The quality of mercy is not strained, it dropeth as the gentle rain from heaven."
Addicted Archivist
Posts: 5960
Joined: Sun Jun 18, 2006 12:20 am
Location: In the mud
Contact: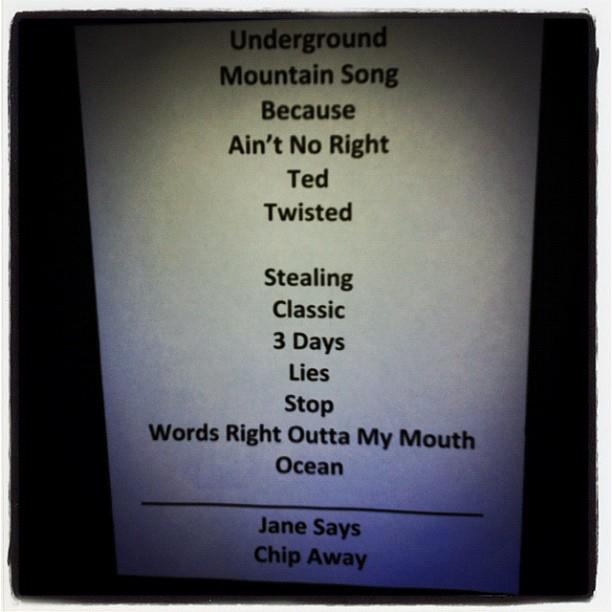 Photo credit Joe.
"The quality of mercy is not strained, it dropeth as the gentle rain from heaven."
Addicted Archivist
Posts: 5960
Joined: Sun Jun 18, 2006 12:20 am
Location: In the mud
Contact:
Per Joe this is what the band actually played last night:

Underground
Mountain Song
Just Because
Ain't No Right
Ted, Just Admit It...
Twisted Tales
Been Caught Stealing
Classic Girl
Three Days
Irresistible Force
Stop!
Words RIght Out Of My Mouth
Ocean Size
Jane Says

So Irresistible Force instead of End To The Lies and no Chip Away.
"The quality of mercy is not strained, it dropeth as the gentle rain from heaven."
Addicted Archivist
Posts: 5960
Joined: Sun Jun 18, 2006 12:20 am
Location: In the mud
Contact:
Downtown Minneapolis Concert Clubs Get Some New Competition

Created: 03/19/2012 10:43 PM KSTP.com

By: Mark Saxenmeyer

Can the economy, and the Twin Cities concert scene, support yet another live music venue?

The developers of a brand new space downtown called The Brick say yes--in fact, they're already siphoning well-known acts away from clubs like the venerable First Avenue.

The Brick can hold about 2,000 people, according to its promoters, and the rock band Jane's Addiction packed them in Monday night with a sold out show It's just the first in an impressive line of acts committed to performing there--a fact that has other concert clubs in the area anxiously taking note.

According to Joe Litvag, senior vice president of AEG Live, "We have been quietly searching for a place to put down roots on the club level in Minneapolis." AEG is the concert giant that also puts on shows down the street at the Target Center. The Brick, located at 111 5th Street North, is sleek and modern, boasting several hundred thousand dollars of improvements over the previous club in the space, Three Degrees.

"Our goal ultimately is to bring more artists to town, more shows to town, to essentially grow the pie," Litvag explained.

Before the doors even opened, concert-goers seemed impressed by what they'd heard about The Brick. Jesse Smith, who was waiting in line out front, said, "They've already shown that they can get pretty decent sized talent to come here."

In addition to Jane's Addiction, groups like Incubus and Daughtry as well as rocker Marilyn Manson and comic Norm McDonald have scheduled upcoming dates at The Brick. They chose this new venue over both Epic across the street, and First Avenue down the block. Admitted Nate Kranz, First Avenue's general manager, "Oh yeah, of course I would have liked to book some of those shows."

But he says First Avenue is confident its similarly-sized, iconic establishment won't lose ground to The Brick. "When we found out they were opening we took a look at our venue to think about if there's anything that we should be doing different," he said.

The answer, it turns out, was no. "I think our glory days are going on right now." The club that Prince made internationally famous will ultimately continue to outdraw any competition, Kranz predicts. "I can't tell you how many bands come in here and play 'Purple Rain' as their sound check." First Avenue, he points out, is a legend--plain and simple.

The creators of The Brick, meantime, freely admit they have a significant ulterior motive behind their club creation. They want to help the acts they showcase develop even bigger followings so they can one day become arena-level headliners, and hopefully sell out their Target Center property as well.

Mark Saxenmeyer can be reached at

msaxenmeyer@kstp.com
http://kstp.com/article/stories/s2544877.shtml
There's some pre-concert video and shots of the crowd at the link above.
I tried to embed it here but failed miserably.
"The quality of mercy is not strained, it dropeth as the gentle rain from heaven."
Addicted Archivist
Posts: 5960
Joined: Sun Jun 18, 2006 12:20 am
Location: In the mud
Contact:
Minneapolis Venue The Brick a Thud in 1st Concert

Early reviews: Oversold and overcrowded

Updated: Tuesday, 20 Mar 2012, 9:57 AM CDT

Published : Tuesday, 20 Mar 2012, 9:20 AM CDT

MINNEAPOLIS (FOX 9) - The Brick, the newest music venue in downtown Minneapolis, opened Monday night with a show from 90s rockers Jane's Addiction. But after the show, quite a few little piggies were already blowing the house down.

Concertgoers took to Facebook and Twitter with complaints about disrespectful security guards, poor sight lines and what seemed to be an oversold venue leading to concerns with bathroom accessibility and fire code. A Facebook commenter who attended Monday's show said Jane's Addiction frontman Perry Farrell even threatened to leave the stage.

"Absolutely the worst rock venue in the Twin Cities," one concertgoer posted. "If the billionaire owners of this club had any business acumen or a shred of decency, they'd have refund checks and apology letters in the mail TOMORROW!"

Those "billionaire owners" would be Anschutz Entertainment Group (AEG), the company behind Staples Center in Los Angeles and The O2 in England. AEG has also been the leading force in developing an NFL stadium in L.A.

Here's what a few others had to say on Facebook after the show:

"If you are not the first 500 in the door, you will not see the stage!"

"you can't see a thing in this hallway of a club. No way this club should have a larger capacity than First Avenue. seriously close it down and leave town AEG!!! We only need First Avenue in this town the best rock club in the country. Janes Addiction was amazing but the vibe of this awful venue spoiled it!"

"I have to say that although the venue definitely does need more time to work on things, Jane's Addiction was sweet."

"What a miserable concert venue. NEVER seen anything like the debauchery of last night's Jane's Addiction show."

"Worst venue ever! Jane's Addiction sounded great! I sure wish I could have seen them too. If you like paying a ton to not see a concert then this is the venue for you. Very unfortunate. Shame on you."

"This was a great show but I feel like the venue was horribly overbooked. I paid over $65 to watch a TV screen monitor and it wasn't even a good TV screen...it was grainy. There aren't enough vantage points at the Brick for that many people."

The Brick has aimed to draw big-name shows to its Warehouse District club, not far from the well-established First Avenue. The Brick bills itself as a "premiere concert facility," with a multi-level floor plan that "allows for incredible sight lines" – apparently not the case Monday night.

Incubus, The Shins and current iTunes chart-toppers Fun all have upcoming shows at The Brick. If you have tickets for an upcoming show, one concertgoer posted this advice on Facebook: "If you're attending any show here, go very early and set up camp. Otherwise you will not SEE the band you are there for."

The Star Tribune critique was expectedly more civil, but they still found security to be "TSA-thorough" and said only those in the front-half of the main room or on a railing could see the stage.

AEG Live senior vice president Joe Litvag told the newspaper they held a staff meeting after the show Monday and have planned another for Tuesday to address problems and concerns.

A press contact for The Brick was not immediately available for comment Tuesday.
http://www.myfoxtwincities.com/dpp/news ... ar-20-2012
"The quality of mercy is not strained, it dropeth as the gentle rain from heaven."
Addicted Archivist
Posts: 5960
Joined: Sun Jun 18, 2006 12:20 am
Location: In the mud
Contact:
Kinky Jane's Addiction can't offset the Brick's opening-night kinks

Posted by: Jon Bream under Music, Behind the scenes, Nightlife, Openings + closings Updated: March 20, 2012 - 9:02 AM

Sightlines aren't an issue on the first half of the main floor at the new Brick / Photo by Carlos Gonzalez

Which was greater: The opening night kinks of the new Brick nightclub or the kinkiness of headliner Jane's Addiction?

The proudly provocative Jane's Addiction, 1990s alt-metal heroes whose frontman Perry Farrell started Lollapalooza, featured two bondage babes, a madman who abused dolls (and cut himself with a knife) and general decadence and lasciviousness. That was to be expected.

The first-night snafus were not expected from the Brick, operated by AEG Live, the world's second biggest concert promoter.

The new security guards were TSA-thorough, which was unnecessarily overzealous for a rock show attracting mostly 30- and 40-somethings who were well behaved. Couldn't AEG call an audible and realize something was wrong with people standing in the rain for an hour to get into a club? The AEG poobahs seemed about as slow to adjust as the Vikings' coaching staff at halftime. (Moreover, the doorman whom I asked a question was, in a word, unwelcoming.)

Hence, clubgoers entered in a foul mood as they walked through the too-small entry way, passed by the too-tiny one-window box office and climbed up the too narrow stairs.

With 2,000 rock fans, the Brick was so packed that traffic flow was an oxymoron. An even bigger issue is sightlines. If you weren't on the front half of the main floor or leaning over the railing in the balcony, you couldn't see the stage. (Does this sound like the same issues that Epic has? Hello.)

Good luck if you had to use the restroom. There are five urinals and two stalls total for men (between basement and balcony restrooms). That may meet city code but it doesn't measure up to the facilities at First Avenue, Epic or the Myth nightclub.

If you want to buy a band T-shirt at the Brick, you have to snake down the crowded stairs to the basement to a small table in the corner. Merchandise was cash only.

Bands might complain that there are no on-site catering facilities and, because the Brick is attached to some daytime businesses, apparently no soundchecks can take place before 6 p.m. (which can sometimes interfere with the time doors are scheduled to open).

At the end of the concert, those same security guards who were in no hurry to get you into the Brick were suddenly aggressive about getting you to leave. Clearly, these neophyte guards were not trained at the First Avenue School of Crowd Control.

As I left the spiffy big-budget nightlcub, I couldn't decide which analogy to use: Downtown Minneapolis needs another medium-sized music club like the Twin Cities needs another sports stadium (at least this venue is funded totally by a billionaire business) or if the Brick were a Broadway play, it should be shut down after opening night.

Don't just take it from me. Here is what some clubgoers said after Monday's concert and the letter grade they assigned to the new venue.

Michael Simonds, 39, Inver Grove Heights: "It's like a smaller Epic. They failed at security; they pulled a TSA on me — everything short of a strip search. Anything good I can say is the light rail drops you off across the street." Grade: B

Jennifer Neitzke, 38, Coon Rapids: "The sound was great. I hope they can figure out how to tier it better and make the stage taller." Grade: C-plus

Troy Johnson, 42, Minneapolis: "They were ill-prepared for this kind of crowd. The flow is awful. I thought this was a professional outfit that ran this thing; they run Target Center and Staples Center [in Los Angeles]. I'm quite surprised. They're going to have to up the ante to compete with First Avenue." Grade: D-plus

Heidi Kapacinskas, 43, Edina:"We tried four different sightlines with absolutely no success. This was incredibly frustrating. It was very claustrophobic, and I think somewhat dangerous. If things stay the same, I would not return." Grade: C-minus

The man in charge of the Brick, AEG Live senior vice president Joe Litvag, was as critical of his new venue as were the clubgoers. After the concert, he had a meeting with his staff to identify problems and propose solutions, and he plans to meet again with them Tuesday morning.

"We want to get people in faster. We can't use the weather as an excuse," he said in an hourlong phone conversation late Monday night. "We have some sightline issues. We had upset fans and that doesn't make us feel good. We want constructive feedback. We learned a lot. We're making a long-term investment and we'll consider any changes. We're gonna make it right."

Litvag said the fire marshall was "pleased with us" and "the police gave us a good report but that doesn't matter on the fan side."

Among the proposals discussed by AEG officials after the show were raising the stage, cutting down the number of tickets sold, improving video screens and changing the instructions given to security personnel searching patrons at the door.

Letter grade? "I'd give us a C," said Litvag, whose staff gave out two refunds. "We have to strive for an A. I'm a perfectionist."

How was the music? Pretty classic 1990s Jane's Addiction, with a few new songs from 2011's "Great Escape Artist" that fit in seamlessly. Drudgy/druggy sound, with eccentric theatricality from Farrell and wonderful rapier guitar from Dave Navarro. Of course, there were surreal accoutrements including two giant statues of nude women and non sequitur films.

Here is the set list:

Undergound/ Mountain Song/ Just Because/ Ain't No Right/ Ted, Just Admit It/ Twisted Tales/ Been Caught Stealing/ Classic Girl/ Three Days/ Irresistible Force/ Stop/ Words Right Out of My Mouth/ Ocean ENCORE Jane Says
http://www.startribune.com/entertainmen ... 48246.html
"The quality of mercy is not strained, it dropeth as the gentle rain from heaven."