I Fix Shit
Posts: 2803
Joined: Tue Jun 27, 2006 7:34 pm
Location: Route 12, King Side Road
Contact:
Addicted Archivist
Posts: 5957
Joined: Sun Jun 18, 2006 12:20 am
Location: In the mud
Contact:
Jane's Addiction drummer Stephen Perkins: 'I think we're peaking now'

Published: Friday, March 16, 2012, 8:06 AM

By John Serba |

jserba@mlive.com

Jane's Addiction has been a band for 27 years. The secret to its longevity, however, is not being together for 27 years consecutively.

The Jane's story is one of "peaks and valleys," to use the words of drummer Stephen Perkins, who says the band's ability to get along is key to its creative success.

"There is something romantic about the band," he said, calling from an Oklahoma tour stop. "It's like a hot relationship between a guy and a girl.

"I think we're peaking now. I love it, I love spending time together. … I'm 44, but when I play Jane's Addiction songs, I feel 17."

The on-again, off-again nature of the group makes a Jane's Addiction tour something of a rarity. Supporting 2011 album "The Great Escape Artist," the band – featuring founding members Perkins, singer Perry Farrell and guitarist Dave Navarro along with bassist Chris Chaney – is playing small theaters, including Wednesday's DeVos Performance Hall show, on its current outing.

Perkins asserts that those theaters have a unique vibe, different from clubs or arenas – a vibe that fits the band's aesthetic well.

"Our music has always been theatrical and dynamic," he said. "We can play a punk rock tune and punch you in the face, then play 'Classic Girl,' and see couples in the crowd making out. Our music is half-electric and half-acoustic… it tells a story, and these are great places to tell a story."

Jane's Addiction formed in Los Angeles in 1985, bucking the city's hair-metal trends and forging a sound that meshed the eclecticism of Led Zeppelin with the aggressiveness of punk rock. Farrell, Navarro, Perkins and then-bassist Eric Avery blazed a trail for the "alternative nation" of the 1990s with albums "Nothing's Shocking" (1988) and "Ritual de lo Habitual" (1990), and hit singles "Jane Says," "Been Caught Stealing" and "Mountain Song."

Farrell famously spearheaded the Lollapalooza tour in 1991, bringing together a genre-spanning bunch of artists (Ice-T, Nine Inch Nails, Henry Rollins, among others), headlined by Jane's Addiction. But the tour would mark the end of the band's first era, the members splintering due to in-fighting and drug addiction.

Since then, Jane's has existed in fits and shudders: A brief 1997 reunion tour; the recording and supporting jaunt for 2003 album "Strays"; a 2009 live trek with Nine Inch Nails, which led to the two-year recording process for "The Great Escape Artist." The band initially intended to record with NIN mastermind Trent Reznor as producer, but struggled to find inspiration during the 10 days they scheduled with him in the studio.

"That was a sign that we shouldn't have a deadline on our art," Perkins said.

In short: if the band is inspired, and the vibe is right, Jane's Addiction is a true musical force. The group allows no outside influence to affect it, and that's why it still maintains its creative integrity after so long.

"Life is too short to do it for the record label or a contract," Perkins said. "We've had people try to push schedules on us, set us up for the next three or five years. We've had a lot of different management agencies and booking agencies working for us. There might be $1 million hanging there for a tour, but if we're not getting along, it's not going to work."

IF YOU GO Jane's Addiction When:

8 p.m. Wednesday

Where:

DeVos Performance Hall, 303 Monroe Ave. NW

Tickets:

$29.50, $45, $59.50, Ticketmaster

Opening act:

Black Box Revelation
http://www.mlive.com/entertainment/gran ... tephe.html
"The quality of mercy is not strained, it dropeth as the gentle rain from heaven."
Addict
Posts: 3652
Joined: Thu Aug 09, 2007 9:20 am
Location: O-HIGH-O
Contact:
Thursday, 23 February 2012 21:05

Jane's Addiction Escapes the Past

Sharing a Los Angeles rehearsal studio space in the late '80s during the formative years of Jane's Addiction gave singer Perry Farrell enduring memories of "people in weird costumes who I hung out with on a daily basis."

So while the influential alt-rock frontman has insisted the theme of the reunited band's latest album, The Great Escape, is all about escaping his past, there are strong elements of the group's legendary theatrical tradition at work in its recordings and tours.

Farrell said the stage production for the Theatre of Escapists tour, which kicked off in February, aims to recreate a theater environment from the 1920s, something reflected in the band's dark, mysterious and sexy video for the single, "Underground," spearheaded by well-known rock video director Robert Hales.

"I've never viewed [Jane's Addiction] as a music project," Farrell said. "I've looked at it like a project that has a great deal of work on rock stages ... a group that is great live."

Now, that group — Farrell, guitarist Dave Navarro, drummer Stephen Perkins and tour bassist Chris Chaney — is in the midst of a tour that focuses on cozier venues.

"We are going into great American theaters to be more intimate," Farrell said. "You enter an environment and the environment is the theater. The audience is in the show. They don't have a choice, they're kind of involved."

The 2012 tour comes after October's release of The Great Escape Artist, the band's first album in eight years and fourth studio recording overall. And, Farrell insisted, the group is "getting along better than ever."

"That's one of the things I didn't like about the past. It was really uncomfortable being out on tour because we basically didn't like each other," Farrell said. "You don't want to be traveling with people you don't like. It's really helpful when you find some people that you get along with that ... have come to appreciate each other and give each other space."

Farrell, the mastermind behind Lollapalooza music festival, conceded the concept for The Great Escape Artist may have some basis in past road experiences as the group toured behind classic albums such as Ritual de lo Habitual and Strays.

"Maybe the funny thing about it is I'm escaping the past because I don't want to be held to it. I don't want to be held accountable," he said. "I enjoyed myself because I didn't have the pressure."

The singer seems particularly buoyed by the "Theatre of the Escapists" tour because the band will play many cities where Jane's Addiction hasn't performed in years. The band last appeared in Grand Rapids back in 1988, when it played Club Eastbrook, now the Orbit Room.

"The trick to booking is going to places I hadn't been to in a long time. I want to see America now," Farrell said. "I want to see places that have culture and have maintained their own sense of style. So that was part of it. I wanted to go out there and see the restaurants and go shopping. I want to grab some Americana."

Jane's Addiction

DeVos Performance Hall, Grand Rapids

March 21, 8 p.m.

$29.50, $45, $59.50

devosperformancehall.com, (616) 742-6500
http://www.revuewm.com/sounds/on-tour/i ... s-the-past
"I've got some advice for old people, you either keep fucking dancing or die." - Perry Farrell
Addicted Archivist
Posts: 5957
Joined: Sun Jun 18, 2006 12:20 am
Location: In the mud
Contact: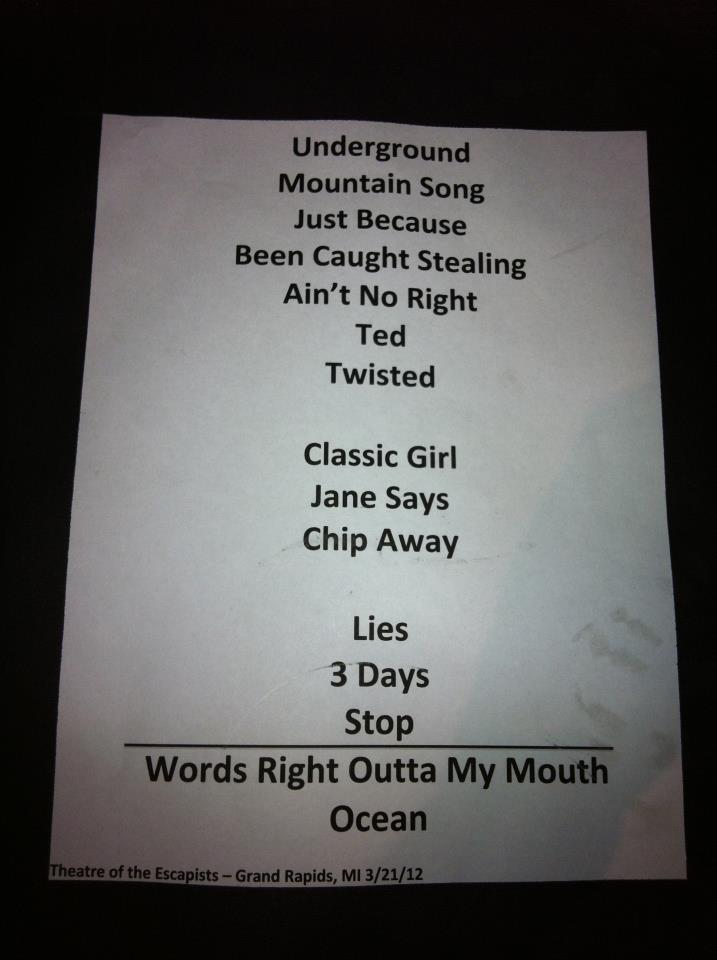 Photo credit Joe.
"The quality of mercy is not strained, it dropeth as the gentle rain from heaven."
Addicted Archivist
Posts: 5957
Joined: Sun Jun 18, 2006 12:20 am
Location: In the mud
Contact:
Jane's Addiction rocking, psychedelic and provocative during DeVos Performance Hall show (review)

Published: Wednesday, March 21, 2012, 11:44 PM Updated: Thursday, March 22, 2012, 12:32 AM

By John Serba |

jserba@mlive.com

Perry Farrell held out his bottle of wine.

"Grand Rapids, huh?" he said, grinning at the DeVos Performance Hall crowd Wednesday night. "OK, let's be friends."

He took a big swig from the bottle, and his band, Jane's Addiction, played "Jane Says," the summery, strummed alt-generation anthem with the steel drums and refrains begging to be sung loud and long. The audience obliged in a kind of joyous rapture. Even Dave Navarro, the group's guitarist with the aloof rock-star persona, could be seen mouthing the words.

Don't for a moment believe that Jane's in 2012 is just a Lollapanostalgia act, though. Sure, the classic cuts – "Been Caught Stealing," "Classic Girl," "Ain't No Right" – carried the most weight for the crowd of Gen-Xers who remember how Jane's burned hot and bright in the late 1980s and early '90s, helping define the decade of alt-rock that followed. But the band's stage show, a mixture of well-orchestrated theatrics consisting of pseudo-burlesque dancers and a heavily strobe-lit Big Rock Show production, was fresh, exciting and unusual. The varied visual presentation made a newer cut such as "End to the Lies" (which, let's face it, is a tough sell to a crowd wanting the familiar) more compelling.

Jane's started slow, with laid-back new track "Underground" (from 2011 album "The Great Escape Artist") followed by a somewhat slowed-down "Mountain Song," its lethargic tempo pushing psychedelics to the forefront over Navarro's driving riff. A few songs later, the group - filled out by drummer Stephen Perkins and bassist Chris Chaney - hit its stride with "Ted, Just Admit It…", best known as the "Sex is violent!" song, driven by Farrell's reedy wails (which haven't lost their power with age – the singer turns 53 next week), and backed by kinky, provocative bondage videos shown on three digital screens.

Farrell was typically eccentric, and wildly entertaining, between songs. He introduced "Ted" by urging the crowd to "reach inside their pants and give themselves some love." He goofed with the front row, stealing hats and sunglasses and wearing them. He indulged in non-sequitir monologues about cow-tipping and buying a Harley Davidson roadster. He said, "I've been hit in the head so many times, man," and it's tempting to believe it.

The end of the main set was musically exceptional – a 12-minute foray into the shimmering "Three Days," followed by a blistering rendition of "Stop." The pair of songs illustrated the hard-edged eclecticism that the band does so well, both of them punctuated with Navarro's heroic and fluid guitar solos. The show was a reminder that many imitators have tried to mimic the distinctively sexual sound and energy of Jane's Addiction, but few have been able to capture lightning in a bottle like this band did – and continues to do.

LIVE REVIEW

Jane's Addiction

3 1/2 out of 4 stars When and where:

Wednesday night at DeVos Performance Hall

Highlight:

A 12-minute version of the swirling, psychedelic "Three Days" was followed by the jagged riffs and breakneck tempo of "Stop" – a fine showcase of both of the band's primary strengths.

Attendance:

1,800

Set time:

90 minutes
http://www.mlive.com/entertainment/gran ... ertainment
Follow the link above to view photos from the show.
"The quality of mercy is not strained, it dropeth as the gentle rain from heaven."
I Fix Shit
Posts: 2803
Joined: Tue Jun 27, 2006 7:34 pm
Location: Route 12, King Side Road
Contact:
bumped for archive ordering
janesaddiction.org