What a clusterfuck of a festival!
I still don't have all the details but it looks like the Enit Festival which was created as an after party for the Lollapalooza Festival didn't get off to a very good start at least as far as Porno For Pyros is concerned.
From what I've been able to gather this first incarnation of the festival was scheduled to take place in 4 cities.
What happened after the festival was planned is a little unclear and I'm working on figuring it out.
Here's what we have figured out at this at this point.
As I said the festival was to take place in four cities and they were:
August 10, 1995 - Bomb Factory, Dallas, TX
http://janesaddiction.org/tour/show/por ... 08-10/462/
August 12, 1995 - Icehouse, Phoenix, AZ
http://janesaddiction.org/tour/show/por ... 08-12/463/
August 14, 1995 - Shrine Auditorium, Los Angeles, CA
http://janesaddiction.org/tour/show/por ... 8-14/2231/
August 18, 1995 - The Warfield, San Francisco, CA
http://janesaddiction.org/tour/show/por ... 8-18/2232/
Those four dates are backed up by a handbill I found on myspace and a t-shirt that's for sale on ebay.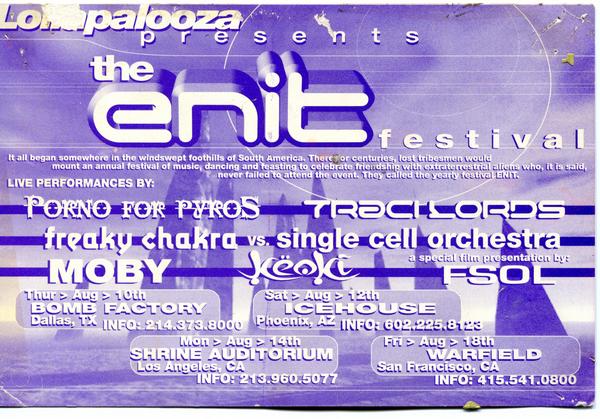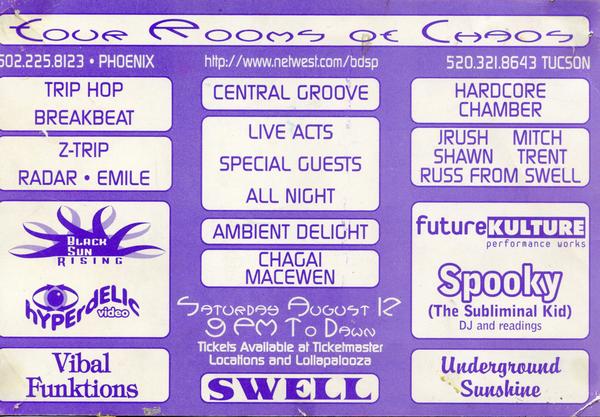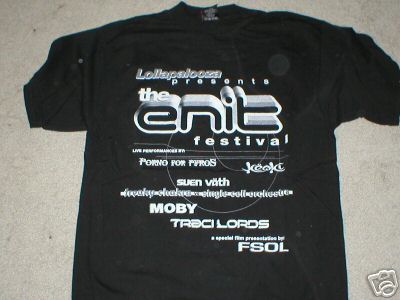 Now here's where things begin to get interesting.
When I first heard about there being an Enit Festival in 1995 three and a half years ago I did some digging.
At that time I found the t-shirt pictured above but more importantly I found the following email:
Date: Fri, 28 Jul 1995 00:01:27 -0400

From:

AWerks@aol.com

To:

idm@hyperreal.com

,

mjbrown@magnus.acs.ohio-state.edu

Subject: Astralwerks/ENIT News

FUTURE SOUND OF LONDON and FREAKY CHAKRA invited to join Lollapalooza

companion ENIT Festival

Astralwerks recording artists Future Sound Of London and Freaky Chakra have

been invited to join the lineup of the ENIT Festival. ENIT is an all-night

electronic dance music event being held August 10-18 in four cities during

the Lollapalooza tour - Dallas, Phoenix, Los Angeles, and San Francisco in

conjunction with Lollapalooza '95. Located in a venue away from the

Lollapalooza Main Stage, ENIT begins once main stage headliner Sonic Youth

ends. The brainchild of Lollapalooza co-founder Perry Farrell, ENIT is a

proverbial 'gathering of the tribes,' combining live music, DJ's, dancing,

and avant-garde film into a full-on multimedia extravaganza.

Multimedia masterminds, Future Sound Of London will be screening Teachings

>From The Electronic Brain, a 20-minute film created by the band in

collaboration with graphic artist Buggy G. Riphead to accompany their

recently re-released ISDN album. Culled from Future Sound of London's live

broadcasts last year via the Integrated Services Digital Network, the initial

limited edition pressing of ISDN sold out within three days of release

(20,000 copies worldwide).

San Francisco-based producer/remixer Freaky Chakra has quickly risen through

the ranks as one of the best up-and-coming American talents in underground

dance music. Freaky Chakra's debut full-length album, Lowdown Motivator,

released this spring on Astralwerks, was met with overwhelming worldwide

acclaim from dance music press, DJ's, and partygoers alike for his unique

flavor that stands apart from his West Coast counterparts. Live, Freaky

Chakra will be joined by fellow Bay Area cohort Single Cell Orchestra (billed

as Freaky Chakra vs. Single Cell Orchestra) in a soundclash of analog

electronics, funky beats, and soundtrack soundscapes.

Accompanying Future Sound Of London and Freaky Chakra on the festival dates

are Moby, ex-porno-star-turned-techno-diva-DJ Traci Lords, DJ Keoki,

Farrell's band Porno For Pyros (Dallas and Phoenix only)

, U.K. ethno-techno

experimentalist Banco de Gaia, and German wunder DJ Sven Vath (Los Angeles

and San Francisco only).

-ENIT FESTIVAL DATES & VENUES-

Thursday, August 10 - Bomb Factory/Dallas, TX

Saturday, August 12 - Icehouse/Phoenix, AZ

Monday, August 14 - Shrine Auditorium/Los Angeles, CA

Friday, August 18 - Warfield Theatre/San Francisco,CA

For more information, contact:

Amy Welch (212.886.7525) or Peter Wohelski (212.886.7506) @ Astralwerks,

Julie Arkenstone @ Lollapalooza Tour Media (310.859.4200) or Heidi Robinson @

Lollapalooza National Media (818.953.7910).
When reading that email a couple of important things jump out at me.
First off it's dated July 28, 1995 which is less than two weeks before the August 10th show was to happen.
Secondly if you read the portion I've marked in bold you can see that as of July 28th Porno For Pyros were only scheduled to appear at the August 10th and August 12th shows.
What happened as far as Porno For Pyros playing the August 14th and August 18th festival dates?
Well if you look at the preview of the following article dated August 10th it should clear things up a little.

Fort Worth Star-Telegram - August 10, 1995 - 14 NEWS

PEOPLE WATCH

SNUFFED OUT Porno for Pyros, the art-rock band led by Lollapalooza organizer Perry Farrell, has dropped out of tonight's after-'palooza "Enit" show at the Bomb Factory, local promoters 462 Inc. said yesterday. Actually, Porno has dropped off all the Enit dates, which include stops in Phoenix, Los Angeles and San Fransisco. "He's a total flake," said one Lollapalooza rep. "This...
http://nl.newsbank.com/nl-search/we/Arc ... l=GooglePM
Based on the info above I've changed the status of these four shows to Questionable / Canceled.
helicine has told me he's going to attempt to retrieve the above Star-Telegram article in full and I believe we'll have everything we need to confirm these four shows as canceled Porno For Pyros appearances once he has.