I Fix Shit
Posts: 2837
Joined: Tue Jun 27, 2006 7:34 pm
Location: Route 12, King Side Road
Contact:
Addicted Archivist
Posts: 5960
Joined: Sun Jun 18, 2006 12:20 am
Location: In the mud
Contact:
Jane's Addiction performs at The Joint on Thursday

By JENNIFER CHANCELLOR World Scene Writer

Published: 3/15/2012 2:22 AM

Last Modified: 3/15/2012 3:57 AM

Back in the late 1980s and early '90s, the guys in Jane's Addiction were seedy, raunchy, dreadlocked, clad in leather and often blitzed. Frontman Perry Farrell sang about fighting the world, stealing, loving and, well, sex.

It was no party rock band.

Regardless of how critics (or parents) felt, it was art.

These days, frontman Farrell still sings about the band's streetwise roots and of deeds in darkened rooms - but there's a pop element that buoys it all, a relatability that is darn-near universal.

Farrell is fit, too. Heck, they all are. The "junkie" look has been replaced with fitted fashion and top-line gear.

Jane's performs raucous shows, filled to overflowing with sensuality and a carnival-like atmosphere replete with dancing women, crowd interaction and high-energy performances.

"Well, there is a real, honest sensuality to our music. We want to have emotional sex with our fans. It's never posed. It's really real," drummer Stephen Perkins said during a recent telephone interview.

Some things never change.

"We can still get right to it. It's always been progressive, it's never been metal," he said, commenting on a label some fans have given to the band's distinctive sound.

In honesty, Jane's Addiction has always had a blend of world beat elements and jazz, funk, straight-up-rock and electronica.

The longtime rock band brings its Theatre of the Escapists tour to The Joint inside the Hard Rock Hotel & Casino Tulsa on Thursday.

It's been eight years since the band's last studio album, and the latest, "The Great Escape Artist," released late last year, is praised as a return to the influential sound that made them so famous.

"We don't want to break things, we want to make things. That's the honest truth with Jane's," Perkins said. "It's genuine."

For many fans, Thursday's concert is the first time they'll see the longtime act live, Perkins said.

"It's nice to get into a secondary market. We haven't played a lot of these places in a long time, if ever," Perkins said. There was an Oklahoma City concert in the early '90s, but he doesn't remember ever playing Tulsa.

"Of course Chicago, LA, London, they see us all the time. But the more we play, the happier I am. The drums, they are really kind of my zen. The more I can do it in front of strange and new people, the better."

That's one big reason the band chose a smaller "theater" tour this time around, he said.

"I was at a Van Halen show at a small venue last night, and I was thinking, 'Holy cow,' you know, these two brothers have been together forever. Here I am in this tiny place, a private party. I've loved Van Halen forever. As a musician, I really appreciate that, I appreciate being able to experience the music from musicians who play in these intimate places."

And there's nothing else like a Jane's Addiction show. The songs are instantly recognizable: the ephemeral high of "Irresistible Force" to the guitar-slapped "Stop!," the crashing drum avalanche of "Mountain Song," the rush of "Been Caught Stealing," vocal rap-singing pleas in "Superhero" and straight-up alt-rock of "Just Because."

"Why we sound the way we do is because of who we are and what we've been through. We make sure we've got an honest look at it all. ... I know Metallica is one of the best bands ever, but I hear their music and I assume they all have the same record collection. Perry (Farrell) doesn't have my records, and I don't have his. Our influences and tastes are different. That's what makes us what we are - that and the choices we make while writing."

And often, what's reflected is as eclectic as it is controversial.

Back when MTV still played music videos, Jane's didn't care about getting censored. "Official" music videos went unseen. Album covers went white when their Farrell-created images were deemed "too racy."

YouTube didn't exist, but bootlegs abounded, which made the band even more sought-after for live shows.

"What makes our music so unique and personal to our listeners is that you can hear our personalities, but then again you hear our unity," Perkins explained.

Each band member has worked on separate projects and solo acts - Farrell even founded one of the most successful rock festivals ever: Lollapalooza. Jane's Addiction always comes back together.

This time around, bassist Chris Chaney (Alanis Morissette, Slash, Shinedown, Burn Halo) has been added to the live mix.

The core of the band - Perkins, Farrell and guitarist Dave Navarro - have performed together since their teenage years. There's a conversational element to the way the men play to - and off of - one another.

"You add all the shows I've done with Navarro - I met him when we were 13 in a speed metal band - and you add Perry, who I met when I was 17, you add all those gigs together with Porno for Pyros (the band Perkins and Farrell formed in 1992 after a Jane's Addiction breakup) ... There's nothing we haven't done together," he said.

"But you put us together, and we're Jane's Addiction. We sound like Jane's Addiction and like nothing else. It's always been that way."

Visual art from musical artistry

Jane's Addiction drummer Stephen Perkins recently debuted his first art collection, "TIME: A Collection of Rhythms on Canvas." It is 100 print canvases created by the momentum of his music and drumming. Each canvas is a result of Perkins performing in a dark room with a variety of colored drum sticks for specific time increments using long-exposure photography.

To see and learn more about his art, visit tulsaworld.com/stephenperkinsart.

Jane's Addiction with Black Box Revelation

When: Doors open 7 p.m., showtime 8 p.m. Thursday

Where: The Joint inside the Hard Rock Hotel & Casino Tulsa, 777 W. Cherokee St., Catoosa

Tickets: Must be age 21 or older. $55, $60, $65, available at tulsaworld.com/hardrockcasino, 918-384-ROCK and venue box office.

Online: tulsaworld.com/janesaddiction

Original Print Headline: Up Close: Jane's Addiction
http://www.tulsaworld.com/scene/article ... UTLIN92617
"The quality of mercy is not strained, it dropeth as the gentle rain from heaven."
Addicted Archivist
Posts: 5960
Joined: Sun Jun 18, 2006 12:20 am
Location: In the mud
Contact:
"The quality of mercy is not strained, it dropeth as the gentle rain from heaven."
Addicted Archivist
Posts: 5960
Joined: Sun Jun 18, 2006 12:20 am
Location: In the mud
Contact:
https://twitter.com/#!/Fishdogs/status/ ... 7476471808
Maybe they busted out Superhero for the first time this tour?
I wanna be your Super Hero! Jane's Addiction right now live in Tulsa!
https://twitter.com/#!/jillnickerson/st ... 3618285569
"The quality of mercy is not strained, it dropeth as the gentle rain from heaven."
Addicted Archivist
Posts: 5960
Joined: Sun Jun 18, 2006 12:20 am
Location: In the mud
Contact:
Looks like they did and they played Shower too!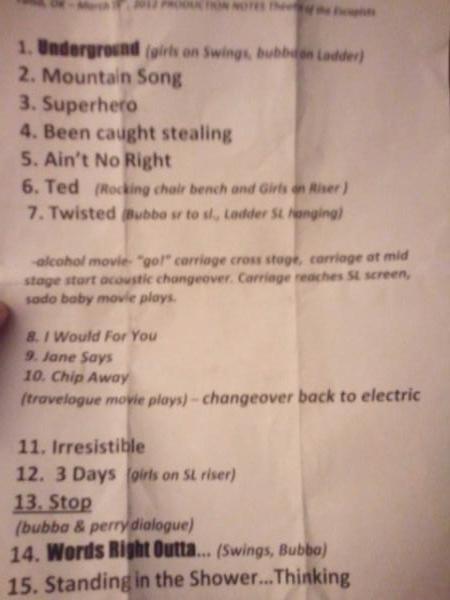 https://twitter.com/#!/soonerluvr/statu ... 92/photo/1
"The quality of mercy is not strained, it dropeth as the gentle rain from heaven."
Addicted Archivist
Posts: 5960
Joined: Sun Jun 18, 2006 12:20 am
Location: In the mud
Contact:
CONCERT REVIEW: Jane's Addiction at The Joint

3/16/2012 12:27:00 AM

By Jennifer Chancellor

World Scene Writer

The crowd nearly overwhelmed alt-rock powerhouse Jane's Addiction Thursday night at its sold-out show at The Joint inside the Hard Rock Hotel & Casino Tulsa.

The Los Angeles band that's known for its nearly 30 years of explosive highs and rumbling, rollicking, sensuality-laden tours held its fans at near-riotous ecstasy with a generous dose of hits and a bump of tunes from its latest studio album, "The Great Escape Artist."

The "Theatre of the Escapists" tour was less about Vegas-style, Cirque du Soleil showmanship and more about the freaks inside of us -- the fringe, the broken, the hopeful, the rebellious.

The set roster included rarities and straight-up rockers: a tribal bent, three-drum, hammering rendition of the early Jane's tune "Chip Away;" an eerie ode to serial killer Ted Bundy, "Ted, Just Admit It;" and the audience nearly overtook "Mountain Song," screaming lyrics louder than Farrell could belt them out. That was OK by him, though. He grinned ear-to-ear and rode the wave. He shimmied across the stage, high-fiving hands along the way.

Farrell also writhed on the floor, his trademark high vocals completely in check as the crowd rushed to him, their fists pumping. Pin-up girls teased in looping videos. Farrell leered from the stage. Dancers gyrated in lace beside him as he slapped and shook upreached hands at every opportunity, all night long.

"All this talent comes from ... an effed up childhood! But that's ok. We can be twisted. Trees are twisted!" Farrell said to the crowd as it pushed still closer before he launched into "Twisted Tales."

Frontman Farrell, guitarist Dave Navarro, bassist Chris Chaney and drummer Stephen Perkins recreated their tunes in the space they occupied Thursday night -- a whole, unique sound that reflected the in-the-moment energy of their fans.

Jane's Addiction is the same band it's always been, but it's not the same band I saw in Oklahoma City back in 1992. Yeah, Navarro still does the "my-shirt-comes-off-by-the-third-song" thing, primping between cigarettes and guitar solos. In fact, I've carried that early image of him with me as sort of a "This is Spinal Tap" cliche ever since. Other rock stars can't pull that off without looking like, well, hilarious parodies. (Has anyone else seen the half-naked group shot of Hinder that's floating around the interwebs? Case in point. Ew.)

Annnyway. Seriously. The band wouldn't be around today if it hadn't solidified, matured and progressed into a bulletproof band. Jane's certainly wouldn't be touring to support a critically-acclaimed new album. Sure, it could survive as a "living tribute" to its olden days, doing covers of its own music in a band filled with strangers and fronted by Farrell. Easily. But let there be no confusion: Jane's Addiction is as current today as it was as a breakout act nearly three decades ago. Within the power core of Farrell, Navarro and Perkins lies its secret to longevity.

Energy escalated through their set with "Underground," "Been Caught Stealing," "Ain't No Right," "I Would for You," "Three Days," "Jane Says," "Stop!," "Words Right Out of My Mouth," "Standing in the Shower ... Thinking" and more.

"You've been watching us and we've been watching you for more than 25 years," Farrell said. "You know who we are and where we're from. ... Jannnnneee's Addiction from Lossss Angelessss!"

After Thursday night's blowout, those who didn't know will not forget.

Black Box Revelation, a Belgian garage duo of drummer Dries Van Dijck and guitar-singer Jan Paternoster wowed the crowd with its grinding, howling, '60s guitar distortion and '70s era kick drum and tunes including "Shadowman," "Love Licks," "Bitter," "High on a Wire" and "I Think I Like You."

Startling intricacies pulsed within the pair's deceptively straightforward presentation. They're often compared to the Black Keys, but they're more like the Kinks. Sorta. You know, if the Kinks wrote darkened melodies blended with swaggering blues riffs, then added ambient noise and punch-to-the-face drums. Look for a full-length studio album release from these guys this summer.
http://www.tulsaworld.com/blogs/post.as ... t/29-14603
Follow the link above to check out some pictures from the show.
"The quality of mercy is not strained, it dropeth as the gentle rain from heaven."
Addicted Archivist
Posts: 5960
Joined: Sun Jun 18, 2006 12:20 am
Location: In the mud
Contact:
Jane's Addiction Get Intimate In Tulsa

By Steven Anthony

Friday, March 16, 2012

Deep into the first leg of their Theatre Of The Escapists tour, Jane's Addiction stopped at the Joint in Tulsa's Hard Rock Casino for a powerful, albeit concise show.

In support of last year's phenomenal The Great Escape Artist, last night's gig ended up being more of a greatest hits trek with a few new tracks thrown in to prove the band is proud of their record.

And they have good reason to be proud – all four new songs played at the show: Underground, Twisted Tales, Irresistible Force and Words Right Out Of My Mouth, translate incredibly well in a live setting, fitting in perfectly with the older fan-favorites.

The band started the evening with the aforementioned Underground, a sexy, slinky track driven by a deep bass groove and Perry's trademark reverb-ed vocals. As Perry alternated between adjusting his microphone's vocal effects and parading around the stage like a 6-year-old who has inhaled an entire package of Pixy stix (that's a compliment), it became clear that Jane's Addiction has aged better than many of their peers.

Perry's seemingly boundless energy was definitely a show stealer for the majority of the night, but Dave Navarro had no problem hamming it up for the crowd and stealing all of the attention whenever he could. The audience loved it and it's clear Navarro thrives on the energy; even while strutting around the stage and fooling around with people in the first few rows, he had no trouble hitting his solos and taking time to pose so everyone could take pictures.

The show featured an elaborate stage setup, including giant topless statues, nearly naked dancers (who took turns gyrating and spanking each other throughout the evening), and a great light show. The tour is focused on smaller venues, and Tulsa is one of the smallest on the itinerary – the Joint has 2,700 seats, meaning everyone in the crowd was seeing one of the most intimate Jane's Addiction shows in recent history.

Musically, even without original bassist Eric Avery, the band is solid. Many people claim that one can't emulate Avery's bass playing, but Chris Chaney certainly had no problem holding it down all night, from the signature sounds of Ain't No Right to the rumble-funk of Been Caught Stealing, this sounds like the Jane's Addiction that fans know and love.

Midway through the show, parts of the elaborate staging were torn down and the roadies brought out an acoustic guitar, several chairs and a set of steel drums. After a bit of trouble with Perry's mic during a heartfelt I Would For You, the band took on Jane Says. Stephen Perkins recreated the original track's vaguely tropical percussion perfectly, providing the proper backing for Perry to lead a few thousand people through one of alternative rock's greatest songs.

Perkins' stint on the steel drums was the second time he had stolen the spotlight at the show, as much earlier during Mountain Song, his primal, barreling assault on the kit reminded the crowd just how vital a role the man plays in the band.

The main set ended with a pair of Ritual De Lo Habitual tracks, including Three Days (played in full – 11 minutes long!!) and everyone's favorite, Stop!

Three Days allowed every member to bask in the spotlight at certain times, but it was really Navarro's work during the solos that seemed to impact the crowd most. The man still seems to exude rockstar attitude from every pore and the fact that he seems to so effortlessly play his instrument doesn't hurt.

The encore started with Words Right Out Of My Mouth, one of the heaviest tracks on The Great Escape Artist. As the stage lights pulsated, switching between deep shades of blue and bright flashes of red, Perkins and Chaney locked into an intense rhythm track getting the entire pit to jump up and down.

As the night came to a close, Perry told the crowd that after the show he was going to do something healthy for him – he was going to take a shower and piss all over himself. This was obviously an introduction to Standing In The Shower… Thinking, which I believe made its tour debut in Tulsa. It was a weird track to end the show on, but the crowd was more than happy to have another track from the near 25-year-old Nothing's Shocking.

Overall the show clocked in at a short 90 minutes with a grand total of 15 songs on the set. Rather short, but the sting of the ticket cost to show length ratio is lessened by the amount of pure energy the band stuffed into the performance.

If you've ever wanted to see Jane's Addiction (or if you have wanted to see them again), now is most certainly the time to do it. With a great album to support and an entertaining stage show, the band is most certainly back, giving fans an intimate chance to remember just how important they were to the world of alternative rock. Get on it.

Setlist: Underground, Mountain Song, Superhero, Been Caught Stealing, Ain't No Right, Ted Just Admit It…, Twisted Tales, I Would For You, Jane Says, Chip Away, Irresistible Force, Three Days, Stop!

Encore: Words Right Out of My Mouth, Standing in the Shower… Thinking
http://www.antiquiet.com/features/shows ... sa-review/
Follow the link to checkout some photos from the show.
"The quality of mercy is not strained, it dropeth as the gentle rain from heaven."
Jedi
Posts: 353
Joined: Mon Aug 13, 2007 2:31 pm
Location: portland
Contact:
Wow, Shower, really? Have they played that since 91? wow. I'd like to hear/see that!
Jedi
Posts: 353
Joined: Mon Aug 13, 2007 2:31 pm
Location: portland
Contact:
intertwoven wrote:Wow, Shower, really? Have they played that since 91? wow. I'd like to hear/see that!
ok, looks like 5 other times since 91. still, pretty much a rarity.
Power Tools
Posts: 46
Joined: Wed Jun 28, 2006 2:22 am
intertwoven wrote:Wow, Shower, really? Have they played that since 91? wow. I'd like to hear/see that!
That and
I would
in the same show?
What a crazy setlist this show is.